Point Of View w/ Brie Eley of Here and Ready
* Mark your calendars for Sunday, March 31st - WMM Community Director Tehana Fatima Weeks will be hosting an orientation for Here and Ready! *
We Make Movies is proud to be an ally to and partner with the casting database for Black actresses HERE AND READY, helmed by powerhouse Brie Eley.
While cultivating her own career, actress, writer, producer, director, voice-over artist, and comedienne Eley founded Here and Ready in an effort to increase POC visibility and opportunity. A private networking collective servicing more than 1,200 Black actresses across the U.S. and Canada, the platform is positioned to shift the landscape of casting. Through this endeavor, Eley has produced
educational seminars, hosted networking events for the Casting Society of America (CSA), and launched a free and public talent database website, all while creating solidarity and connection amongst Black female talent.
Originally from Sugar Land, Texas, Eley studied Arts Administration at Marymount Manhattan College in New York City, leading to a marketing position at Second Stage and then responsible for artistic development at New York Theater Workshop. She additionally trained at BADA (British American Drama Academy) at
Oxford University
before devoting her time to comedy at The Pack, UCB, and iO West in Los Angeles. She has performed in theaters all over NYC, the Actor's Theatre of Louisville, and the Kennedy Center, has appeared in multiple, high profile, national
commercials
, and has graced both the
small and big screens
, catching the eye of esteemed funny woman Elizabeth Banks and her giant comedy platform highlighting other funny women,
WHOHAHA
. As a VO artist, she landed a role in
The High Republic
(a digital
Star Wars
series) and was interviewed by Patrick Oliver Jones on his podcast
"Why I'll Never Make It."
Suffice to say, Eley has enjoyed a thriving career as an entertainer, which is why helping fellow Black actresses get seen and hired translates into an even more remarkable undertaking. Her venture was simple at first, as she was only seeking to replace herself for a reading she was no longer able to perform in. What began as an innocuous Facebook posting in 2019, morphed into a FB group (initially termed "private group of Black actresses") where the specific demographic shared resources and tips within the industry, commiserated, and generally found communion.
Just as our own
WMM values
state the importance of helping others to help oneself, Eley felt that another Black woman's success was her own (and vice versa).
During the pandemic the group took on a whole new meaning as everyone was looking for ways to connect, and against the backdrop of the rising tide of the BLM movement, a tangible, cultural shift in how we (as a nation and world) see Black lives was occurring, and Eley says this prompted her to examine, "if you really respect us and value us, then
hire
us."
With
an expansion in the vision of how Black women are perceived and accepted,
Here and Ready
took flight
. Black women were demanding to be seen as the friendly (not sassy) neighbor, the love interest (to anyone, not only their Black counterparts), the accountant, the librarian, the high powered attorney, and the list goes on. By the fall of 2020,
Eley was hosting workshops and seminars that addressed the professional acting gap experienced by most Black actresses, from financial literacy to adjusting mindset. Everything was designed to help these women get access to the industry and opportunities that were previously held from them.
Additionally, they deemed it unacceptable to hear casting directors, agents, and managers decry a system where they "couldn't find" Black actresses. There was now a database, a monumental step towards inclusion and accessibility, and by January of 2021 prominent BLM activist Tamika Mallory had joined forces in championing the group by starting a Patreon. By February, Eley was able to secure a meet and greet for members (
in multiple markets)
with the Casting Society of America, complete with roundtable discussions and five minute sessions for the actresses to chat with CD's face-to-face.

This
was the access Eley had envisioned, but we'll let her tell you more about her journey...
WMM: Other than the efforts you have already made towards inclusion and access for Black actresses, what other actions are desperately needed to shift the industry as a whole?
BE: There needs to be variety on the executive side of the industry. Right now most people are still making decisions based on fear as opposed to taking chances. There is a negative trickle down effect that happens when things are homogenous from the top down. The challenge is breaking up the systemic setup so that things open up for everybody and it is no longer about who can afford to be and STAY in the business.
WMM:
What kind of content resonated with you as a child growing up in America? Has that changed?
BE:
All types of content resonated because it was meant to be "universal." I found parts of myself in it because I wanted to, not because it was explicitly there. My exposure was broad - everything that Jim Henson did to the
Cosby Show
to
Martin
to
Living Single
to
Splash
to
The Color Purple
. I just had to search for myself more, which is something people of color have to take on to find the universality in art. Growing up, we didn't have a
Hotel Rwanda
and certainly not
When They See Us
.
WMM:
What facets of the industry have you enjoyed the most?
BE: Shakespeare! To go from one character to another fluidly was definitely culled through reading, dissecting, and performing Shakespeare. Also, in classical theater there is more acceptance of range for people of color to play. There has typically been more of a suspension of disbelief than with the medium of television or film. I spent nine months in Louisville Kentucky, performing new works in a festival of contemporary theater, which was very accepting of new versions of people. I really enjoyed that collaborative process of creation and the celebrating the circular nature of artistry (as opposed to linear).
WMM:
How has content creation shaped your perspective as an actor?
BE: I learned about editing, pacing, and what has to happen on camera to make a scene work. I think about my time on set as a producer of my acting - What is my framing? Background? Aesthetics? Continuity! I am a better TEAMMATE on set, there is less focus on myself, and less thinking life while you're living it.
WMM:
What are you most proud of in your career thus far?
BE: I am proud that I am still doing it! Sometimes it shakes all your confidence, but you get up again and celebrate yourself for doing it. I have realized that I am not ever prepared for the success when it does happen so I can only keep myself humble and grateful. And... I always still remember why I love it.

WMM:
What are you looking forward to with Here and Ready? In your career?
BE:
I am excited to keep building on creating a world and lobbying for Black actresses. I would love to scale my efforts with the AAPI, Latina... communities through partnerships. It would be incredible to replace Actors Access. I just want to cut through the noise for a $5 cost of a latte! I'm excited about a Toyota commercial coming out, and you can catch me on a few shows this season including
Shining Vale
on Starz. I am also really excited about my plants these days.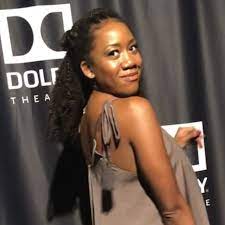 ---
Written by Sapna Gandhi

Sapna Gandhi is an actor, singer-songwriter, and content creator. In addition to TV credits such as BOSCH, SHAMELESS and SCANDAL, she has appeared in numerous shorts, features, and series, including festival darlings IN ABSENTIA (Raindance) and THUMPER (Tribeca). Gandhi has produced several series and films under the umbrella of her production company Elegant Grotesque (most recently SCRAP, starring Anthony Rapp and Vivian Kerr, and Noel Gallagher's High Flying Birds' STRANDED ON THE EARTH, directed by Mike Bruce). She is also 1/2 of the musical duo, VATAVARAN, was born in England, raised all over the states, studied English and Women's Studies, and trained at the American Conservatory Theatre in SF.